Catapulting success for Cadetship Program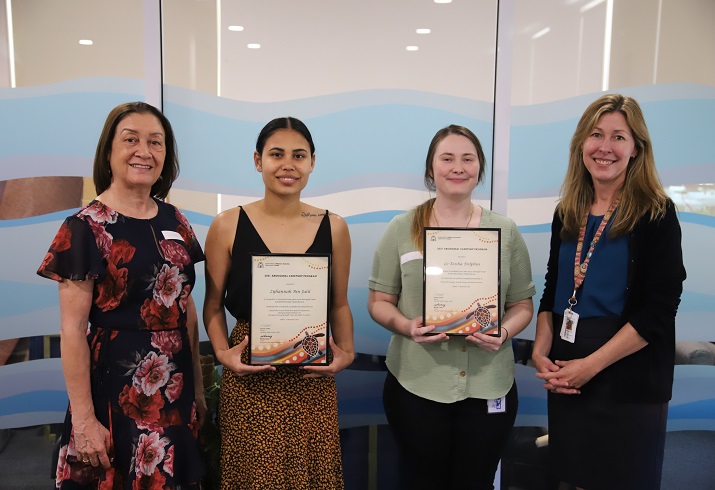 L-R: Denese Griffin, Director, Aboriginal Health Strategy, Zyhannah Bin Jalili and Le Teisha Deplin, Graduate Cadets, and Sue Flindell, Workforce Consultant
Since 2019, East Metropolitan Health Service (EMHS) has been part of the WA Health Aboriginal Cadetship Program, which offers Aboriginal university students the opportunity to gain paid work experience while studying for their undergraduate degree in health care.
Each year, EMHS has employed four Aboriginal Cadets, providing them with a personal and professional support network which will assist in building the foundations for their healthcare careers.
Last year WA Health announced its biggest Aboriginal Cadet intake, with a total of 38 cadets being employed across WA Health this month.
"This is a major achievement and we hope to see this amazing program continue to grow," Director of Aboriginal Health Strategy, Denese Griffin, said.
"In December, WA Health marked the largest cohort of Cadets graduating from the program. It is wonderful to see how the program has grown, and how so many former Cadets are now working across the health system."
Zyhannah – who graduated with a Bachelor of Biomedical Science at UWA – was one of EMHS' first Aboriginal Cadets, beginning her cadetship in 2019. During her time in the program, she rotated through numerous placements, including Respiratory Medicine, Aboriginal Community Health, Aboriginal Health Strategy, and Health Promotion.
She will begin a six-month contract as a Health Promotion Officer with the Aboriginal Youth Health Program team at EMHS.
"Zyhannah was such an asset to EMHS during the cadetship," Denese said.
"We appreciate her energy, ideas and skills, and know that she has a bright future ahead in health."
EMHS also acknowledges Le Teisha who commenced her cadetship in 2020 with a placement at Royal Perth Hospital (RPH). During her time at RPH, Le Teisha gained valuable experience in Ward 6H Surgical Division and the Respiratory and Renal wards within the Medical Division.
"Le Teisha has been a dedicated and committed Cadet who regularly demonstrates kindness, respect, and patience to those she is caring for," Denese said.
"She is always enthusiastic and eager to learn."
Le Teisha recently graduated from ECU with a Bachelor of Nursing and gained selection in the WA Health Nursing GradConnect Program and joins RPH as a Graduate Nurse this year.
As the latest Cadets take on their new roles across EMHS with the support of the Aboriginal Health Strategy Unit, Denese said she and her team were looking forward to welcoming this year's Aboriginal Cadets, who will be starting their cadetships this month.
"We would like to congratulate Zyhannah, Le Teisha and all of the recent graduates, and welcome to all the new Cadets joining this year," Denese said.