Byford Health Hub continues to progress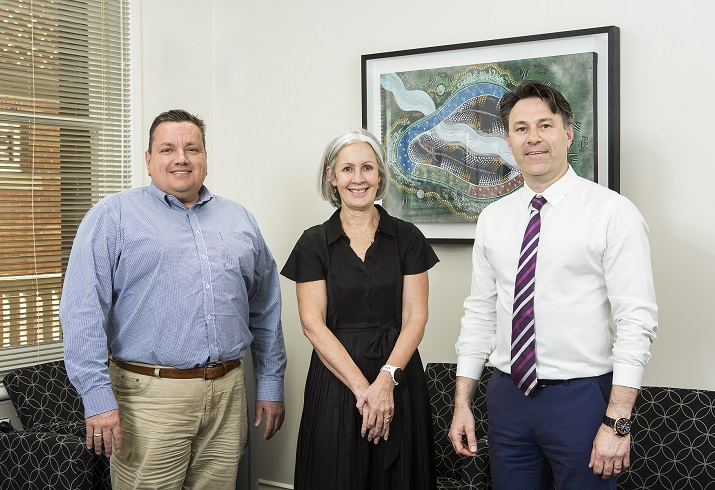 Shire of Serpentine–Jarrahdale Chief Executive Officer Paul Martin, EMHS Chief Executive Liz MacLeod, and EMHS Executive Director Clinical Service Strategy and Population Health Joel Gurr.
The planning and establishment of the Byford Health Hub (BHH) continues to progress in the new year.
Announced in February 2021, the idea of the BHH is to support the fast-growing Shire of Serpentine-Jarrahdale community. EMHS is partnering with the Shire of Serpentine Jarrahdale (SJ Shire) to plan, design and deliver the health hub located in Byford.
The BHH is important to the development of an integrated care model that focuses on and addressed a range of health and social needs, which will positively impact the health and wellbeing of the wider Shire of Serpentine Jarrahdale community.
Essential to this planning is the East Metropolitan Health Service (EMHS) Byford Health Hub Interagency Steering Committee and Project Reference Group, which were established in 2021 and are committed to moving the Hub forward.
The Project Reference Group held there January 2022 meeting in the Shire of Serpentine Jarrahdale and visited the proposed Hub site in Byford.
Following an expression of interest process last year, the Community and Consumer (CaC); and Service Provider and Clinician (SPaC) Advisory Groups have been formed to provide advice and support in shaping the BHH. This is to ensure that the health hub is representative of the needs of the whole community.
The BHH is in line with the recommendations of the Sustainable Health Review (SHR), which sets directions to drive a cultural shift away from acute hospital-based care to prevention and seamless access to services at home and in the community.
For further information please visit the Byford Health Hub website.
Pictured: EMHS Byford Health Hub Project Reference Group members at the Shire of Serpentine-Jarrahdale.