High Level Incident Overviews and Strategies
It is an unfortunate reality that no system which delivers complex health care is free from risk or error. It is globally recognised (World Health Organisation, 2017) that errors in healthcare delivery are the cause of unintended harm and at times, associated with poor outcomes for patients.
Ensuring patient safety and the delivery of high quality care at all times is the number one priority for EMHS. To support this, EMHS has a proactive and transparent patient safety culture that uses a non-punitive approach to the reporting of and learning from, clinical incidents or errors.
So that the health service can adequately investigate the causes of clinical incidents, each incident is assigned a rating known as a Severity Assessment Code (SAC) score that guides staff in the type of investigation method to be applied to each event. Clinical incidents that result in serious harm or death (SAC 1) require a very detailed, rigorous investigation facilitated by an expert panel, members of which may at times be completely independent to the health service.
Measuring high level incident overviews and strategies
Clinical incidents can be represented as a rate per 1,000 occupied bed days. This can give an idea of how busy a hospital is at the time that incidents are reported, and can help inform us about how successful the culture of open and transparent reporting is.
When an incident is reported and investigated, one of the things reported is whether a patient is injured and how severe the injury is. We try to learn from every incident, whether or not the incident causes harm, and make changes to systems, processes and procedures to reduce the risk of future incidents happening, and to prevent harm from similar incidents if they do happen. This is the reason that we promote a culture of openness and transparency we prevent future harm If an incident is reported as a near-miss, or causing no harm.
How do we measure up
The graph below shows the combined incident rate for the EMHS hospitals:
Armadale Health Service
Kalamunda Hospital
Bentley Hospital
Royal Perth Hospital
Chart: Rate of reporting of clinical incidents per 1,000 occupied bed days: All reported inpatient clinical incidents and inpatient clinical incidents resulting in harm.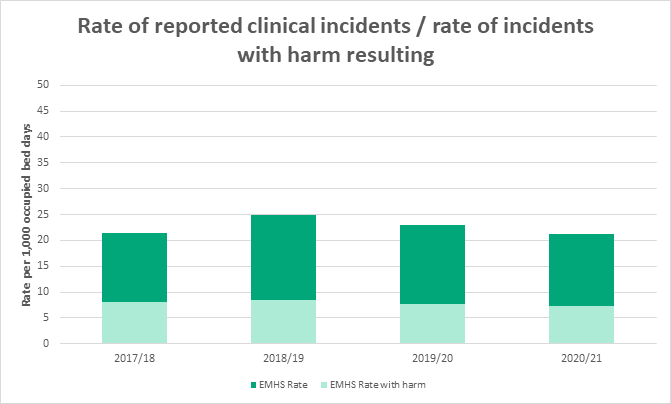 What the figures mean
The graph shows the rate of reported inpatient clinical incidents per 1,000 bed days. The green columns show the rate of all inpatient clinical incidents, and the tan columns show the rate of incidents that resulted in harm of any kind.
The higher total rate of reported incidents and the increasing rate of reporting show that the culture of reporting incidents is healthy and effective. Note that the rate of incidents resulting in harm has remained low – this shows that the health system learns from events and introduces effective programs to prevent and minimise harm resulting from incidents.
Learning from Clinical Incidents
This is an example of learnings from a serious clinical incident.
Situation:
A middle-aged patient with a known medical history was admitted to an acute medical unit. Despite tests being performed to detect changes to the patient's heart rhythm, the patient went on to have a heart attack and needed to be transferred to the ICU.
Clinical incident:
A thorough investigation of the incident concluded that there was a delay in recognising and responding to changes in the patient's heart rhythm, which if identified earlier, may have enabled an alternative treatment plan.
Contributing factors:
The investigation panel identified that the patient was admitted to a bed with a heart monitoring system that only had a display located in a central area and not at the patient's bedside. While nurses and doctors could see changes in the patient's heart rhythm at the central monitor, it was difficult for the them to be alerted to these changes when they were in the patient's room. This meant staff were unaware of the alerts of changes in the heart's rhythm on the centrally located heart monitor display at the time of the incident.
Recommendations:
The incident led to a review of the design of the acute medical unit, including the location of the heart monitor displays. As a result, the area was redesigned to group all patients requiring heart monitoring together and improve the alarms and alerts so that staff were made more aware of any changes in heart rhythms.
A full review of hospital treatment and escalation processes was also conducted to ensure staff roles and responsibilities were optimised during heart monitoring. This was followed up with the development of simulation exercises for staff education in recognising and managing life threatening heart rhythms.
Lessons learned:
All clinical areas with heart monitoring must have a workplace design that gives a full view of monitors, together with alarm systems to ensure staff are aware of any changes in heart rhythms. Ongoing staff training and education in heart monitoring processes is vital to ensure early recognition and escalation of patient deterioration.