Rate of Community Follow Up Within First 7 Days of Discharge from Psychiatric Admission
Discharge from hospital and transition to community-based care is a critical point for people receiving mental health care. People leaving hospital after an admission for an episode of mental illness may be more vulnerable and are at increased risk of readmission without adequate follow up. This period of transition is also a time of great stress and uncertainty for families and carers.
A responsive community support system for people who have experienced an acute psychiatric episode requiring hospitalisation is essential to maintain clinical and functional stability and to minimise the need for hospital readmission.
Community follow-up services include:
community-based crisis assessment and treatment teams
day programs
mental health outpatient clinics provided by either hospital or community-based services
child and adolescent outpatient and community teams
social and living skills programs
psychogeriatric assessment services
hospital-based consultation-liaison and in-reach services to admitted patients in non-psychiatric and hospital emergency settings
ambulatory-equivalent same day separations
home based treatment services
hospital based outreach services.
Service contacts are not restricted to in-person communication but can include telephone, video link or other forms of direct communication.
Measuring the rate of community follow up within first 7 days of discharge from psychiatric admission
People who are discharged from a mental health service should have a person-to-person follow up contact within 7 days of discharge. The rate of community follow up within the first 7 days from discharge is measured for all people that are discharged following a psychiatric hospital admission.
Follow up contact is only regarded as a service contact if it is relevant to the clinical condition of the patient/client. This means that it does not include services of an administrative nature (e.g. telephone contact to schedule an appointment) except where the nature of the service would normally warrant a dated entry in the clinical record of the person in question.
In May 2011 a target of 75% achievement was endorsed by the Australian Health Ministers' Advisory Council (AHMAC) Mental Health Information Strategy Standing Committee. This target will be subject to periodic review and will be further informed by analysis of the data.
How do we measure up
The graph below shows the combined rate of community follow up within first 7 days of discharge from psychiatric admission for the EMHS hospitals:
Armadale Health Service
Bentley Hospital
Royal Perth Hospital
St John of God Midland Public Hospital
Chart: Percentage of community follow-up within seven days of discharge from psychiatric admission.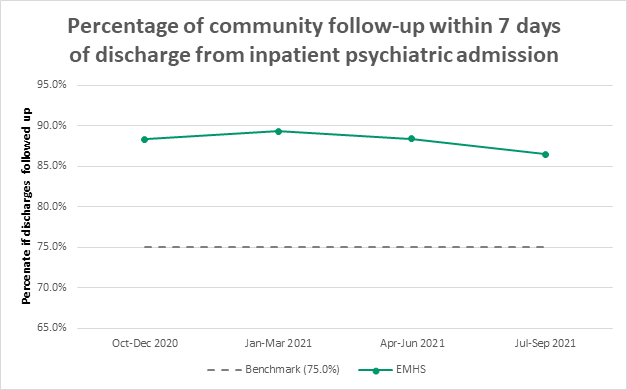 What the figures mean
The graph shows the percentage of community follow up within first 7 days of discharge from psychiatric admission by quarter for EMHS.
A percentage higher than the benchmark is desirable.
EMHS is consistently performing better than the benchmark for the period October 2020 to September 2021.