Counselling services at SARC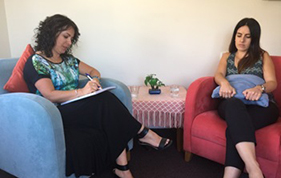 Traumatic sexual experiences can have a huge impact on your daily life. It's important to seek help to cope with these effects so they don't dominate your life and cause serious long-term problems. Good mental health is just as important as good physical health.
It takes an enormous amount of courage to talk to someone about your experiences, but not seeking help can often lead to the situation becoming worse. SARC counsellors are trained to understand the impacts of sexual trauma and to support survivors of sexual trauma in their recovery.
SARC offers two types of counselling services:
Crisis telephone counselling if you are in emotional crisis from an unwanted sexual experience (recently or in your past).
Call (08) 6458 1828 or 1800 199 888 (freecall from landlines) between 8:30am and 11pm, any day of the week.
Find out more about what happens when you call for crisis telephone counselling.
Face-to-face counselling for any sexual assault / abuse experienced recently or in the past.
Call to request an appointment on (08) 6458 1828 between 8.30am to 4.30pm, Monday to Friday.
SARC doesn't provide services to perpetrators of sexual abuse or sexual assault.
Find out more about what happens when you call to make a counselling appointment.
Occasionally, SARC counsellors also run groups for survivors of sexual trauma.